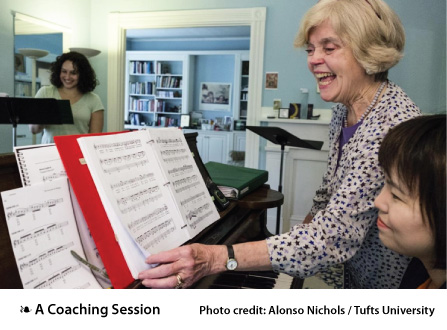 Congratulations!
to everyone who takes lessons and practices, and to those who sing solos, give concerts, and perform in ensembles, opera, musical theatre productions, shows, concerts, recitals and choirs. Current and former students are singing in the Back Bay Chorale, St Paul's Adult Choir, Cantilena, Masterworks Chorale, Chorus Pro Musica, and Cambridge Community Chorus.
Huzzah!
to Melody Chapin who completed her Master's degree at Tufts University last June and is now pursuing a Ph. D. in Ethnomusicology at Brown University with a particular focus on Brazilian Art Song. You can watch Melody in concert on Youtube at the Barcelona International Festival of Song in the summer of 2014.
to Naomi Levine, Harvard voice student who gave a recital in fall 2016, and performed the role of Dryad in the Harvard Lowell House Opera 2017 production of Strauss's Ariadne auf Naxos. In June 2015, Naomi attended the Language of Lieder International Workshop, sponsored by Westminster Choir College in Vienna , Austria.
to MIT voice student Liang Yu for her solo performances during the past year.
to former Harvard voice student Olivia Lucas who is now on the music faculty of New Zealand School of Music, Victoria University, in Wellington, New Zealand.
to former Harvard voice student Katharine Dain, whose burgeoning opera and recital career in Europe now includes singing in the vocal quartet Damask Ensemble. You can find more at: katharinedain.com & Damask Ensemble.com
to former student Jenni Grout who won third place in "Arabs got Talent". First western performer to enter the competition. (You can see and hear Jenni on Facebook.)
Evensong Services, Christ Church, Cambridge
First Sundays at 4:00 pm:
October 1, November 5, December 3, February 4, March 4, May 6
Special Services:
Sunday, December 10: Lessons & Carols at 5:00 pm
Sunday, April 1: Easter: 9:00 & 11:00 am
Concert Season 2017-2018
Saturday, October 28: Jordan Hall, Boston
Tuesday & Wednesday, Dec. 19 & 20: Old South Church, Boston
Saturday, March 10: St. Paul's Church, Cambridge
Sunday, May 13: Sanders Theatre, Cambridge
Student Performances
Solo and ensemble performances, studio mini-recitals throughout 2017-2018.
Full studio recital May/June, 2018 .
Summer 2013 – Winter 2014 Highlights
Christ Church, Cambridge
Evensong First Sunday Choir Services: October, November, and December 2014

Back Bay Chorale, Boston
July 2014: Carmina Burana with the Boston Landmarks Orchestra

International Congress of Voice Teachers

, Brisbane, Australia, July, 2013. Power Point Presentation: "The Dynamics of Vocal Chamber Music";

Back Bay Chorale,

Boston:
May: Orff: Carmina Burana
July: Freedom Concert with Landmark Orchestra.
November: Wagner & Verdi: "Sunday at the Opera";

Christ Church, Cambridge

: Evensong Choir
Oct. Nov. Dec. First Sundays sung services
Dec: Festive Service of Lessons & Carols;

Mid-Winter Opera & Musical Theatre Workshop

in NYC: Jan. 2014.

Vocal Chamber Music Course

(fourth year): June-July, 2013 (See notice below of VCM summer, 2014 at New School of Music) ;
Click here for a PDF version of the Presentation (8MB file size)

Upcoming Workshop & Summer Course
The Living Instrument and How It Works
Emily Romney, Workshop Instructor
3 Sundays from 2:00-3:30pm | Feb 16, March 16, & April 27, 2014 | Tuition: $125
This series of three Sunday afternoon vocal workshops is designed to help singers develop greater sensitivity to and confidence in their breathing, body alignment, and tone quality. Each session includes singing activities, useful information and sharing ideas.
To register, or for more information, contact the New School of Music, 25 Lowell Street, Cambridge, MA 02138, 617.492.8105 info@newschoolofmusic.org
Vocal Chamber Music Course & Concert
Emily Romney, Instructor
Tuesdays and Thursdays from 5:30 –7:00pm | June 10, 2014 – July 3, 2014 | Tuition: $415
This course offers singers an opportunity to expand their performing experience and repertoire with Vocal Chamber Music. The course is designed for Solo Singers who would enjoy a chamber music experience and Choral Singers who like the challenge of singing one on a part. The Music will come from 18th through 20th century Vocal Chamber Music repertoire for various combinations of voices, unaccompanied, and with piano. Emphasis will be on interpretation and ensemble skills while bringing music to performance level. The singers will present a concert at the conclusion of the course. Prerequisite: Singers must have basic music reading skills and the ability to learn their music and to sing in tune, one voice on a part.
To register, or for more information, contact the New School of Music, 25 Lowell Street, Cambridge, MA 02138, 617.492.8105 info@newschoolofmusic.org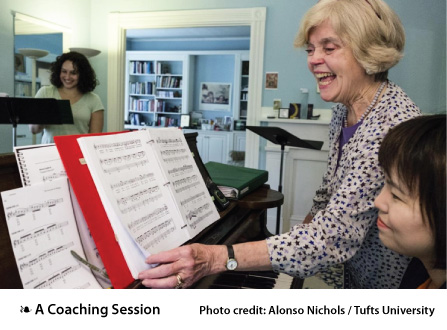 Biography
B.A., Radcliffe College; M.A.T., Harvard University; Soloist Diploma, Longy School of Music of Bard College; M.M., New England Conservatory. Performances with Boston Lyric Opera, Cantata Singers, Castle Hill Festival; concerts at the Gardner Museum, National Portrait Gallery, National Cathedral. Created role of Martha Corey in Judgement at Salem; premieres of works by New England composers. Founding member: The Cambridge Quartet, Victoriania. Performances: England, France, WGBH, NPR, Voice of America. Vocal masterclasses at the Guildhall School of Music & Drama (London), Trinity College of Music (London), masterclass series in Paris: 2001-2004, and workshops and masterclasses in England, Iceland, Finland, Australia, New Zealand, Taiwan, Denmark, Japan, and the U. S. Presentations at ICVT III, ICVT V and ICVT VIII. Recipient of the Distinguished Alumna Award from Longy School of Music of Bard College. Longy School in 2004. Current position and faculty: New School of Music, Cambridge, MA., and the Powers Music School in Belmont, MA
With over thirty years of experience teaching singing to students of all levels, Emily Romney's wide ranging interests and expertise involve working with conservatory vocal performance majors, adult avocational singers at all levels, and young solo singers of high school age. She also brings to her studio teaching a keen interest and broad experience in Vocal Chamber Music literature and performance, and expertise in Vocal Pedagogy. Ms. Romney has presented masterclasses and lectures in the USA, Europe and the Far East. She has performed recitals, chamber music, and opera throughout the eastern United States, England, and France. Her interest in contemporary music has led to premieres of songs, song cycles, and opera.  A founding member of the Cambridge Quartet and vocalist with Victoriana, Ms. Romney has been heard on Boston's WGBH, National Public Radio, and Voice of America. She is also a member of the National Association of Teachers of Singing, and has served as a frequent adjudicator for NATS song festivals and vocal competitions. Ms. Romney is a former member of the New York Singing Teachers Association.
She currently maintains a private voice studio in Cambridge, MA. and is on the faculty of the New School of Music in Cambridge MA, and the Powers Music School in Belmont, MA
Click here to see my Musical Vita.
Studio Voice Teaching
Lessons & Coaching in:
Technical & Musical Development
Performance Preparation
Musicianship for Singers
Voice Studio at 15 Howland Street, Cambridge, Mass.
Contact me at emilyromney1@verizon.net
A Greeting to Prospective Students

Whatever your particular goals and your level of experience, voice lessons should help you as a singer to develop your vocal and musical potential.
By learning a healthy vocal technique, I want you to experience greater vocal freedom and control, and realize more of your voice's expressive potential.
I am also interested to help you to enjoy whatever singing you do and to develop a sense of yourself as a singer and performer.
In my teaching, I use a variety of specific vocal exercises, movements to release tension, basic explanations of how the voice works as an instrument, and a wide range of song, musical theatre and operatic repertoire.
Technically we will work along good functional principles to develop a free and poised body alignment, energized balanced breathing, resonant production of sound throughout the whole range, and clear unforced singer's diction.

Musicianship training and artistry come into play at all levels of skill and experience.

I enjoy teaching people who have some previous musical background but who as singers, may be at very different levels of technical skill and experience - from beginners to professionals.

In over thirty years of teaching adult, college age and high school singers, many of my students have won contests, auditions and competitions, have gone on to further advanced professional training, and careers in the wider musical world. Many others have studied primarily for their own pleasure and enrichment. It's an adventure either way!
Coaching for Choirs
To Choral Directors
Singers with a basic understanding of body alignment and a healthy approach to breathing, resonance, and diction are stronger singers and contribute more positively to the overall sound and performance of their singing groups. Yet the demands of learning music and preparing for performance deadlines often leave far too little time in chorus and choir rehearsals for the basics of good vocal production.
The more freely and efficiently your individual singers sing, the more beautiful and expressive your chorus will sound. Yet singers in many choruses differ widely in their basic understanding of the voice and their approach to using their voice as an instrument. Some sing freely. Others sing despite their tense, inefficient, and effortful vocal production.
How Coaching for Choirs Works
Your chorus or choir is unique in its configuration, its size, and its musical aspirations. You as the musical director know best what aspects of singing need strengthening: e.g., a basic knowledge of the voice, or balance issues, diction in a particular piece of repertoire, etc.
We work together to identify your particular objectives for Coaching for Choirs sessions, and develop a format for coaching sessions based on your goals and the configuration of your singing organization: group size and voicing, and the general profile of group members: age range & musical background: numbers taking voice lessons, etc.

Possible Formats:
A session or series of sessions before your regular rehearsal combining basic/relevant information about how the voice works as an instrument ,combined with singing activities (vocalizing and warm ups) and a question/answer period;
A similar session or sessions at a separate time from your regular rehearsal;
A series of workshops throughout the season.

*While it is possible to arrange for a single session, at least one additional follow up session is strongly recommended to review and reinforce the information and vocal experience.
Contact me to learn how Coaching for Choirs might benefit your singers, and for scheduling information.

Vocal Chamber Music
To Chamber Ensemble Singers
Vocal Chamber Music offers solo singers one of the most musically challenging and delightful of all performance experiences: the opportunity to sing in small ensembles with other solo voices, one on a part. Early in her career as a performer, Emily Romney was a founding member of The Cambridge Quartet, a mixed vocal quartet that sang at the National Museum of Art in Washington, DC, premiered Judgement in Salem at the historic Peabody Essex Museum in Salem and performed at many college campuses, museums and on concert series.
Emily Romney is an experienced vocal chamber music coach. As a teacher, she has championed this wonderful music by singing with her students, coaching them and organizing vocal chamber music courses and performances. A month–long summer Vocal Chamber Music course which she organized in July 2010, completed its seventh season in July 2016.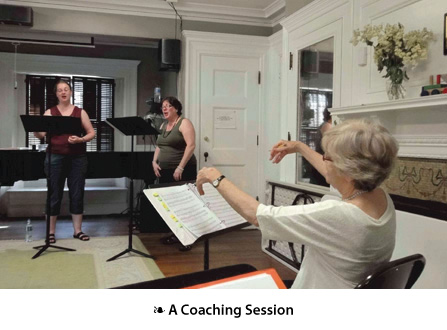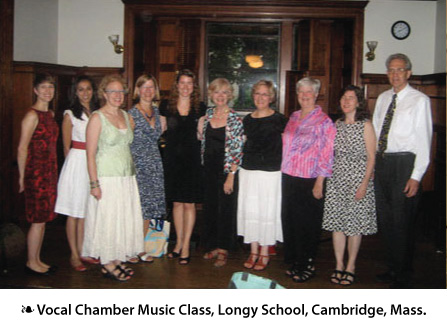 Click here for sample programs from two VCM class concerts.
Repertoire
Orchestral Repertoire

Composer

Work/s

J. S. Bach

St. John Passion

St. Matthew Passion

Magnificat

Mass in b minor

Beethoven

Ninth Symphony

Britten

Rejoice in the Lamb

Handel

Messiah

Samson

Haydn

St Nicholas Mass

Salve Regina

Mozart

Requiem in d minor

Poulenc

Gloria

Schubert

Mass in A flat

Mass in E flat

Stravinsky

Oedipus Rex

Operatic Repertoire

Composer

Work/s

Aldridge

Elmer Gantry (Mrs. Keely)

Arne

Thomas & Sally (Dorcas)

Britten

Noye's Fludde (Mrs. Noye)

The Beggar's Opera (Polly Peachum)

Massenet

Werther (scenes) (Charlotte)

Menotti

The Medium (Mrs. Nolan)

The Old Maid & the Thief (scenes) (Miss Pinkerton)

Mozart

Le Nozze di Figaro/scenes (Marcellina)

Cosi fan tutte/scenes (Dorabella)

Sullivan

The Pirates of Penzance (Ruth)

The Gondoliers (Fiametta)

Van Slyck

Judgement in Salem (Martha Corey) (premiere)

Verdi

Otello (scenes) (Emilia)
| | |
| --- | --- |
| Recital & Vocal Chamber Music Repertoire | |
| Composer | Work/s |
| J. S. Bach | Vergnüte Ruh (solo cantata 140) |
| | Schlage doch, gewünschte Stunde (solo cantata 53) |
| Barber | Hermit Songs |
| | Dover Beach |
| Beethoven | Elegischer Gesang |
| | Schottische Lieder |
| Brahms | Zwei Gesänge für Alt, Viola und Klavier |
| | Liebeslieder Walzer, opus 52 |
| | Neue Liebeslieder Walzer, opus 65 |
| Britten | A Charm of Lullabies |
| Corigliano | The Cloisters |
| Copland | As it Fell upon a Day |
| Debussy | Trois Ballades de Francois Villon |
| Handel | Neun Deutsche Arien |
| | Pastorella vagha bella |
| Haydn | Arianna a Naxos |
| Hoiby | Bermudas |
| Honegger | Trois Psaumes |
| Lang | Nonsense Rhymes of Edward Lear |
| Mahler | Lieder eines fahrenden Gesellen |
| Martin | Trois Chants de Noël |
| Monteverdi | Exulta Filia |
| Moussorgsky | Songs of the Nursery |
| Poulenc | Litanie á la Vierge Noire |
| Ravel | Five Greek Folksongs |
| Schumann | Liederkreis, opus 39 |
| Stravinsky | Three Shakespeare Songs |
| Telemann | Hirt und Bishof |
| | Ihr Volker, hört |
| Van Slyck | Elegies (premiere) |
And numerous other solo works, songs, song cycles, duets, quartets and other vocal chamber music literature including pieces by Beach, Chanler, Chausson, Cherubini, Duke, Fauré, Ives, Mendelssohn, Purcell, Rorem, and Schubert.
Teaching Reviews
"You have opened a whole new world to me".
— Accomplished pianist
beginning voice lessons
• • •
"On behalf of the Council and members of NEWSZATS I would like to express our sincere thanks for your impressive work for our Association during the 2007 International Voice Teacher Tour…
"Your ability to adjust your teaching language and level to suit each student was outstanding. All the masterclass students went away richer and knowing more about their vocal potential. Your empathy, warmth and humour in interacting with these students were greatly appreciated. We also noted your expert diagnostic ability and your art of making the vocal solution fit the person concerned. The tour was an unquestioned success."
— Katharine Watts, President, NEWZATS
• • •
"Thank you for all your amazing training. It has been wonderful!"
— high school senior off to
college conservatory training

• • •
"[You truly allowed me to have music back in my life again, and] I really feel like I have grown and accomplished more than I could have imagined. Thank you so much for your guidance and kindness."
— singer returning to singing
after long break
• • •
"I want to thank you…for having been such a terrific teacher to me these past few years. I have noticed my singing improve by leaps and bounds, and so much of that progress is owing to you."
— Harvard Senior,
student for three years
Performance Reviews
Bach 'Mass in b minor'


"The florid intricacies of 'Laudamus Te' proved no problem for Emily Romney whose clear mellow mezzo was a delight."
—

Hamilton Wenham Chronicle

Boston premiere of

Van Slyck's 'Four Elegies'


"The music is sumptuous and Miss Romney obviously was sympathetic and capable of doing them justice…possesses a very fine mezzo-soprano voice."
—

Northeastern News

'Victoriana, a Victorian Musical Entertainment'


"…(a) thoroughly delightful concert…Emily Romney gave the audience a performance that held them, adults and children alike, in the palm of her hand."
—

Athol Daily News




Poulenc 'Gloria'


"Miss Romney was the solo soprano… She did a first-rate job."
—

Boston Globe




Menotti 'The Medium'


"…the best singing."
—

The Jewish Chronicle

Van Slyck 'Judgment in Salem'


"Mezzo-soprano Emily Romney sang and acted with extraordinary subtlety."
—

Washington Post